| | |
| --- | --- |
| Snorkel in gomma per Traxxas TRX-4 | |
Scale snorkel made of rubber which allows it to stay upright but also able to bend if your truck is rolled over to prevent it from breaking. Can be trimmed/cut to fit other trucks.
Prezzo consigliato al pubblico 16.90 euro
| | |
| --- | --- |
| S-Workz FOX 4x4 1/10 4WD Off-Road Brushless Fun Buggy RTR | |
With the new Fox 44 cage buggy we make it easy for beginners to access high level RC buggies with performance and durability as well as full spares back up.
Driving is both fun and fast with responsive handling on rough and smooth surfaces, the special multi terrain tyres are hard wearing yet grippy and using the cage buggy design ensures a strong well protected back bone for the car.
Prezzo consigliato al pubblico 299.90 euro
| | |
| --- | --- |
| S-Workz S14-2 1/10 4WD EP Off-Road Racing Buggy PRO Kit | |
Basandosi sul successo della S104 EVO, SWORKz ha ulteriormente sviluppato e migliorato il suo buggy fuoristrada 1/10 e ha realizzato la S14-2, che è il migliore buggy 4WD elettrico SWORKz 1/10 di questo momento. Basato sul sistema di sterzo con a perno sferico anteriore e nuove sospensioni anteriori e posteriori.

Trascinatori ruote esagonali da 12 mm.
Bracci posteriori di nuova concezione sono realizzati con un materiale in nylon standard più resistente. Sono disponibili coperture in carbonio opzionali per regolare la rigidità del braccio.
Telaio in alluminio T-7075 con il suo nuovo sistema di torsione centrale garantisce una migliore tenuta ddel retrotreno, abbinato ad un nuovo supporto ammortizzatori in carbonio garantisce una migliore trazione.


S14-2 include componenti di alta qualità, un raffinato sistema di ammortizzatori e molte parti opzionali.
Molte parti opzionali del Team di fabbrica SWORKz sono incluse in questo kit professionale.
SWORKz utilizza solo materiali di altissima qualità e processi di produzione leader del settore, con la conseguenza di un veicolo più veloce, più forte e più affidabile.
Il kit S14-2 Pro è progettato per vincere le gare.
Prezzo consigliato al pubblico 449.00 euro
| | |
| --- | --- |
| Kit accessori Crawler Scaler Yeah Racing | |
We have packaged our best selling Crawler Accessories into one package for your convenience and have made it cheaper! Decorate your full crawler by just buying this package, featuring ladders, jacks and many more!
Prezzo consigliato al pubblico 75.00 euro
| | |
| --- | --- |
| Uniball in alluminio con sfera in acciaio e boccola in bronzo per barre M3 Blu Yeah Racing | |
Aluminum rod ends for either making crawler links, steering links or using them wherever you see fit! Aluminum ensures straight installation!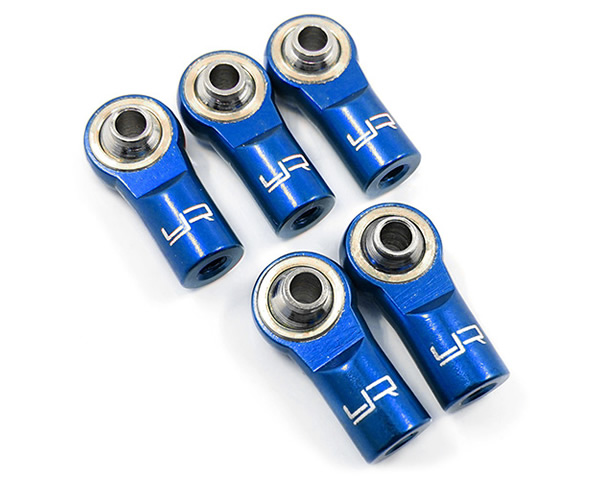 Prezzo consigliato al pubblico 9.50 euro
<< Inizio
< Precedente
1
2
3
4
5
6
7
8
9
10
Prossimo >
Fine >>