| | |
| --- | --- |
| S-Workz FOX 4x4 1/10 4WD Off-Road Brushless Fun Buggy RTR | |
The new SWORKz FOX 4x4 1/10 Brushless Fun Buggy RTR is available now.
With the new Fox 44 cage buggy we make it easy for beginners to access high level RC buggies with performance and durability as well as full spares back up.
Driving is both fun and fast with responsive handling on rough and smooth surfaces, the special multi terrain tyres are hard wearing yet grippy and using the cage buggy design ensures a strong well protected back bone for the car.
Prezzo consigliato al pubblico 289.00 euro
| | |
| --- | --- |
| Caricabatterie D100 V2 SKYRC | |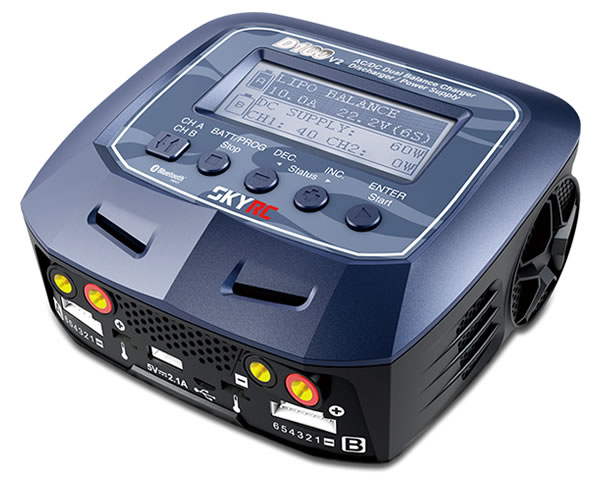 - Caricabatterie a doppio canale indipendente: Potenza Totale 100 W.
- Tipi di batterie ricaricabili: LiPo-LiHv-LiFe-LiIon-NiMh-NiCd-Pb.
- Voice Guide: Una voce sintetizzata legge le info del display.
- Alimentatore: 100 W 13,8 V interno.
- Scan to Go: App che consente la creazione di codici QR per richiamare le impostazioni di ricarica personalizzate dei propri pacchi batterie.
- Discarge: Programma per la scarica dei pacchi batterie.
- Program Data Store /Load: Consente la memorizzazione delle impostazioni di ricarica personalizzata dei propri pacchi batterie.
- Battery Resistance Meter: Misurazione della resistenza interna delle batterie.
- TVC: Controllo del voltaggio terminale di carica selezionabile.
- PC Control: Software per la gestione del caricabatterie da Personal Computer.
- Bluetooth: Interfaccia Bluetooth integrata per la connessione con Smartphone e PC.
- Voltaggio alimentazione AC: 100-240 V.
- Voltaggio alimentazione DC: 11-18 V.
- Potenza carica: DC 100 W.
- Potenza scarica: DC 10 W.
- Voltaggio alimentatore: 13,8 V 100 W max.
- Corrente di bilanciamento: 300 mAh/cella.
- Corrente di mantenimento: 50-300 mAh - Off.
- LiPo-LiFe-LiIon-LiHv: 1-6 celle.
- NiMh-NiCd: 1-15 celle.
- Pb: 2-20 V.
Prezzo consigliato al pubblico 109.00 euro
| | |
| --- | --- |
| Automodello S35-3GTE Pro Brushless On-Road GT 4WD 1:8 Kit 2017 SWORKZ | |
Modello derivato direttamente dal telaio serie S35-3, riprogettato e adattato per l'utilizzo On-Road 1/8 GT con motorizzazione Brushless
Il modello è in kit di montaggio e comprende il solo telaio; elettronica e ruote riprodotte nelle foto sono a solo scopo dimostrativo e non sono inclusi nel kit.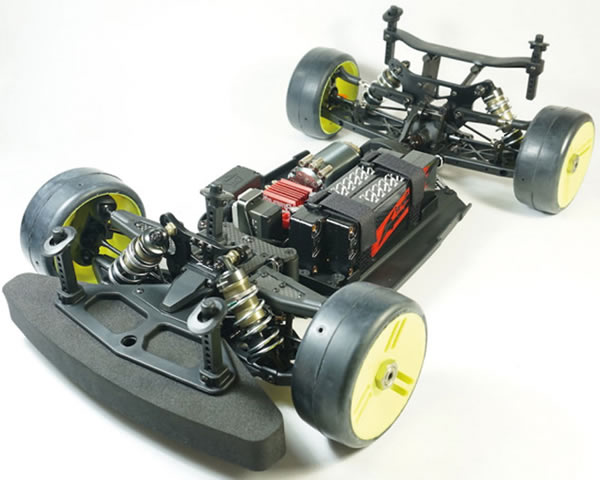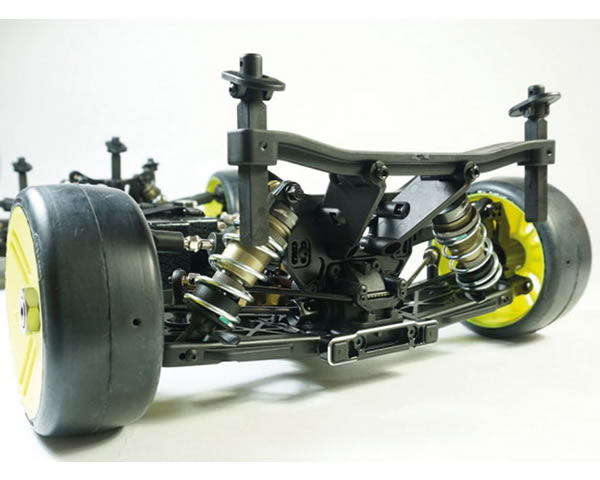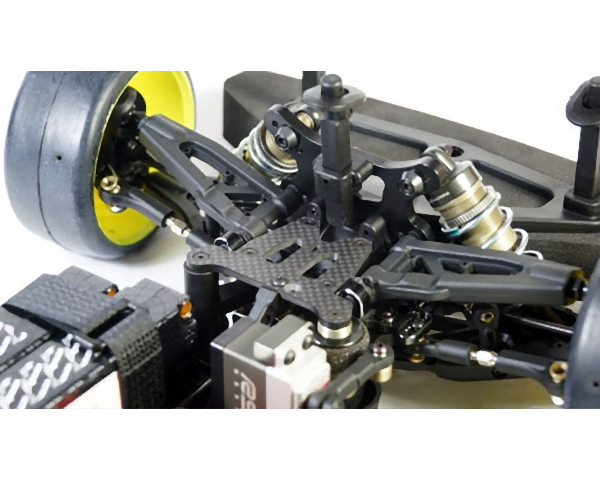 Prezzo consigliato al pubblico 579.00 euro
| | |
| --- | --- |
| Kit upgrade Grafite e Alluminio Tamiya M05 Blu Yeah Racing | |
To make the M05 even better than it already is, Yeah Racing have released their third upgrade package for this car. For the first time ever, there are now graphite parts included.
Yeah Racing saw that the cooling on the kit M05 was lacking, so redesigned the motor area to maximize cooling for the motor on the car. Three individual aluminum cooling heatsinks with cooling fans and a aluminum fan mount will definetly keep any motor cool in all racing conditions. No more fumbling of body pins when changing your battery anymore! Introducing the lightweight spring loaded aluminum and graphite quick release battery compartment. With this upgrade part, all is needed to change your battery is a quick flip of the graphite cover and you will be able to remove your battery. Due to this design, you can now run the battery leads out of the top, instead of running it out of the middle, which will increase safety.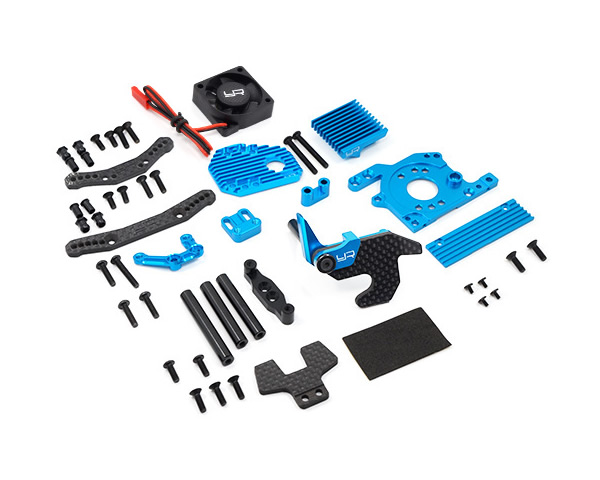 All parts are made of durable CNC aluminum and are available in metallic ice blue color.
Prezzo consigliato al pubblico 109.00 euro
| | |
| --- | --- |
| Hackslider Drift Tuned Giroscopio specifico per Drift Yeah Racing | |
Hold that perfect drift angle combined with high speeds with this Gyro pre-loaded with a customized firmware for Drifting! Comes with aluminum Heat-sink case for high efficiency cooling. Features adjustments to suit every servo on the market, ranging from analog to digital servos and you can also reverse the direction which the gyro acts. The gain (Or sensitivity) can be adjusted on the fly for drifters with transmitters featuring more than three channels and also can be adjusted on the gyro itself.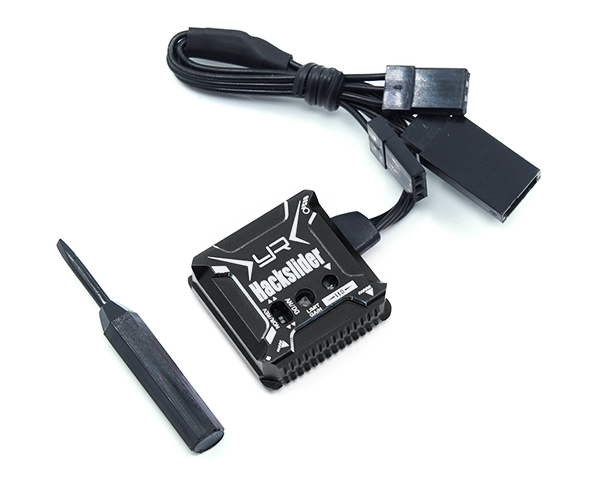 Feature:
- For: Competition Grade Drifting
- Material: Aluminum Case
- Color: Black

Specification:
- Dimension: 25.6*24.5*10mm
- Weight: 13.5g
- Operating Voltage: 6v
- Sensor: Vibrating Gyro Sensor

Include:
- Aluminum Case High Stability Gyro (1 pc)
- Adjustment Screwdriver (1 pc)
- Manual (1 pc)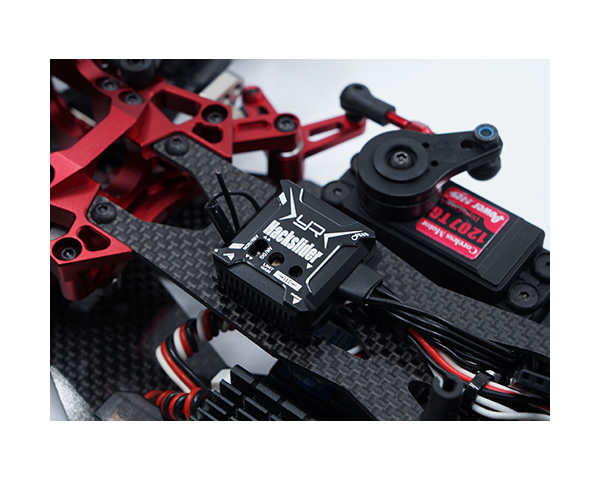 Prezzo consigliato al pubblico 53.90 euro
<< Inizio
< Precedente
1
2
3
4
5
6
7
8
9
10
Prossimo >
Fine >>